Transperfect
Click here for your Free Quote!
83 Princes Street
Edinburgh
EH2 2ER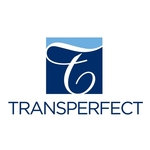 The map is accurate to within approximately 100 metres.
Transperfect
TransPerfect is the world's largest provider of language services and technology solutions for global business. From offices in over 90 cities on six continents, TransPerfect offers a full range of services in 170+ languages to clients worldwide. More than 5,000 global organizations employ TransPerfect's GlobalLink® Product Suite to simplify management of multilingual content. With an unparalleled commitment to quality and client service, TransPerfect is fully ISO 9001 and ISO 17100 certified. TransPerfect has global headquarters in New York, with regional headquarters in London and Hong Kong. For more information, please visit our website at www.transperfect.com.
Categories: translation services, desktop publishing, multimedia services Keywords: Translator, Translation, Interpreter, Interpretation, Localization, Globalization, ISEO, ISEM, Website Translation, Website Localization, SEO, GlobalLink, Translation Services
Opening Hours
Monday 08:30 to 18:00
Tuesday 08:30 to 18:00
Wednesday 08:30 to 18:00
Thursday 08:30 to 18:00
Friday 08:30 to 18:00
Saturday Closed
Sunday Closed
TransPerfect is a 24/7/365 business. For evening, weekend. and holiday support, email info@transperfect.com or visit www.transperfect.com and fill out our "Free Quote" form.
Additional Contact Information
Videos
Payment options
American Express
Check
Discover
Invoice
MasterCard
Visa
More information
Established in: 1992
Brands: Translations.com, TransPerfect Legal Solutions, TransPerfect Connect
Products: GlobalLink Localization Suite
Specialities: Translation, Interpretation, Multicultural Marketing, Website Localization, Recruiting & Staffing, Multimedia Services, Call Center Support, Software Localization & Testing, Training & E-Learning, Legal Support Services, International SEO
Languages spoken: Afrikaans, Akan, Albanian, Amharic, Arabic, Armenian, Azerbaijani, Belarusian, Bengali, Bosnian, Bulgarian, Burmese, Cantonese, Chinese, Chuukese, Croatian, Czech, Danish, Dutch, English, Estonian, Farsi, Finnish, Flemish, French, Fukienese, Georgian, German, Greek, Gurjarati, Haitian Creole, Hebrew, Hindi, Hmong, Hungarian, Icelandic, Indonesian, Italian, Japanese, Javanese, Kannada, Kazakh, Khalkha Mongolian, Khmer, Korean, Kurdish, Lao, Latin, Latvian, Lingala, Lithuanian, Macedonian, Malagasy, Maltese, Mandarin, Marathi, Marshallese, Nepali, Norwegian, Nuer, Nyanja, Pashto, Polish, Portuguese, Punjabi, Quechua, Romani, Romanian, Romansch, Rundi, Russian, Samoan, Serbian, Shanghainese, Sinhala, Slovak, Slovene, Somali, Sotho, Spanish, Swahili, Swedish, Tagalog, Tajik, Tamil, Telugu, Thai, Tibetan, Tigrinya, Tswana, Turkish, Turkmen, Ukranian, Urdu, Uzbeck, Vietnamese, Welsh, Yao, Yiddish, Zulu
Services include: Translation, Interpretation, Multicultural Marketing, Website Localization, Recruiting & Staffing, Multimedia Services, Call Center Support, Software Localization & Testing, Training & E-Learning, Legal Support Services, International SEO